Ting is a notes app that helps you make connections between thoughts and ideas.
Ting is closing on November 1st.
Ting started life as a personal log. But it quickly morphed into a team knowledge base when Roam Research caused a huge wave of interest in the space. The idea was to exploit an unintended technical advantage. Roam's database made sharing technically difficult, while Ting's stack made sharing built-in from the start.
But as they say, if something sounds too good to be true, it probably is.
It turns out that the costs involved in running Ting's backend were simply not sustainable.
It's time to throw in the towel: Ting is too expensive to run in its current form, so it's time to close the alpha and do some major rethinking. I still believe there's a huge opportunity for a simpler and nicer version of Roam.
Thank you for all the support & ideas
— Jesper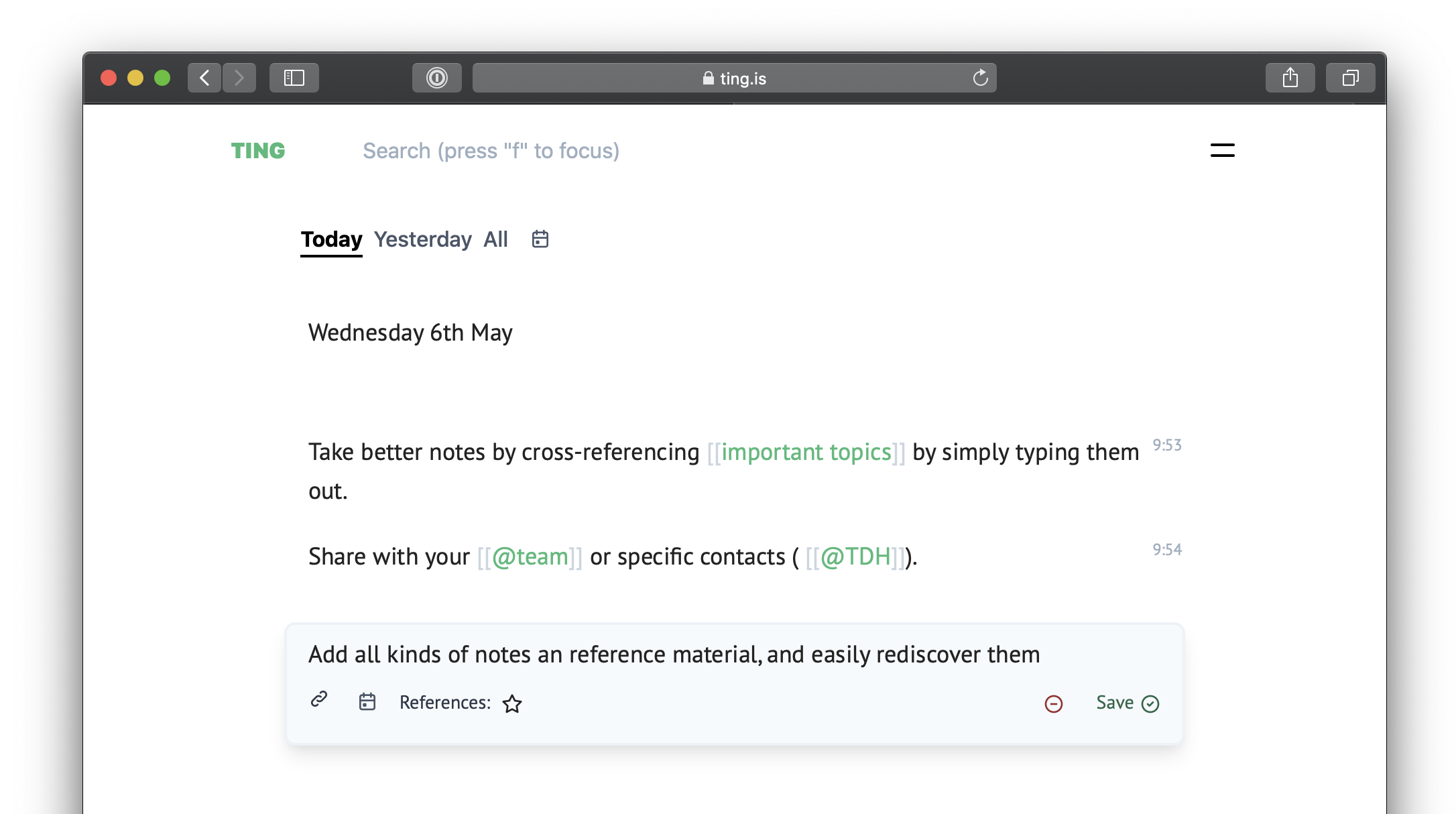 Remembering what you read, or discuss, is much easier when you take notes. But notes are only worth taking if you can refer to them, or build on them.
You need a place to collect, and organise your notes. Ting wants to become that place.
Team knowledge base
Much of modern work revolves around information: making sure they have the last version, keeping everyone on the same page.
Ting is built from the ground up to make it easy for teams to organise their thinking and keep a log of whats happening.
Share with anyone
Some notes are for everyone, but most of them are for some people. Maybe later more people need them, perhaps a friend or someone from another department?
Ting doesn't force you to follow a rigid structure, you can share any notes with anyone. All you need is their email.
Import & Export
I know you already have notes, probably spread out. Everyone that uses Ting did.
Which is why Ting uses a standard format (OPML) for importing old notes, and exporting if Ting is not for you.
Full keyboard support
You are already writing, so why should you need to switch to a mouse?
Ting is built from the start to be fully useable with just a keyboard.
Remote friendly
Keeping information in sync is even harder when everyone is not always in the same room. Which is you should add all your decisions and important information to a shared knowledge base for your team.
Ting is a central store of information, for any remote cooperation.
Need something now?
Try one of these excellent note services that are available now!